Should I Lease or Apply for an Auto Loan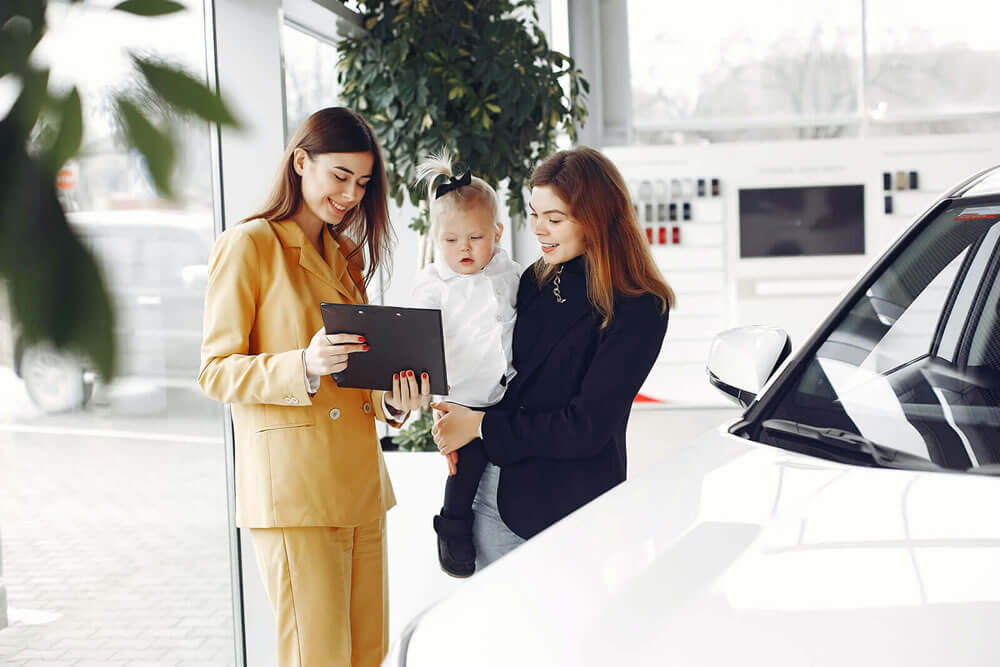 A car salesperson
With the staggering prices in the auto industry today, you're probably looking up refinance car loan rates or are considering leasing. Well, we won't waste much of your time and get down to the brass tacks.
Before Leasing a Car:
Know How Much You Can Afford
Before you lease (or buy) a car, it is imperative that you know what your current financial situation is like and whether you have enough to cover your monthly expenses. For this reason, you might want to consider drawing-up a monthly budget, if you don't already maintain one.
Knowing your financial situation helps you determine whether you can afford another monthly payment, because that is exactly what you're going to be doing after leasing a vehicle.
Note: Trading in or making a larger down payment on your vehicle can reduce your monthly payments
Get a Copy of Your Credit Score
Based on the previous tip, it is also a good idea to check up on your credit score because vehicle purchases are among the biggest payments you will ever make. You can easily get a free copy of your credit report from AnnualCreditReport.com and you will be required to complete a form and mail it to their field office.
Do You Have a Cosigner?
If you don't have a strong credit history, your dealership or creditor might require you to bring in a cosigner to sign the lease agreement or the finance contract. In doing so, your creditor will entrust equal responsibility to the co-signer, which also means that late payments will be reflected on both of your credit histories. In other words, if you can't afford your monthly payments, your co-signer may have to share your burden.
Before Applying for Car Loans:
Know Your Options
If you're considering applying for a car loan, you could opt for either of two options:
1. Direct Lending
Firstly, you could borrow money from your bank, financial institution or credit union. In agreeing to the terms of these loans, you will have agreed to not only pay the amount you asked for, but also an extra charge that is spread over a period of time.
If you opt for this option, then you will be able to shop around for the best loan rates or to discuss with lenders their unique terms to finance a particular car. What's even better is that you can get pre-approved for car loans if you have good credit terms, meaning you will know the APR and other credit terms in advance.
2. Dealership Financing
As the name implies, this option will have you strike up a contract with your dealership, where you also happen to be buying the vehicle. You will owe the dealership the principal amount plus a fixed finance charge that is spread over time.
Typically, dealers sell these controls to financial institutions, credit unions or banks so as to streamline the process and help collect payments. Even though the credit terms on these are a little more expensive than Option #1, you're going to be benefited with multiple financing options, convenience and exclusive manufacturer-sponsored incentive programs.
Research for the Best Refinance Car Loan Rates
Before you opt for either option, you should shop around and look for the best financing terms among your local lenders. You see, while purchasing a car, you are also purchasing a car loan and hence you need to shortlist all the redundant options.
While doing so, make sure that you take your time to really understand the terms and conditions of your contract, what it is going to cost you (monthly and total) and several other factors including:
The final price you negotiate for your vehicle
The APR, which is usually negotiable
The period of the credit contract
The following is an example of how you would compare the credit terms of different lenders (based on current car loan rates):
Best Refinance Car Loan Rates and Lenders (Sep 2020)5>
| | Minimum Credit Score | Estimated APR% | Loan Amount |
| --- | --- | --- | --- |
| Lightstream | 600 | 3.99%-9.99% | $5000-$100,000 |
| MyAutoLoan | 575 | 2.05%-29.40% | $5000-$99,000 |
| RefiJet | 580 | 2.45%-17.99% | $7500-$150,000 |
| Rate Genius | 550 | 1.99%-16.00% | $12,000-$100,000 |
| AutoPay | 600 | 1.99%-17.99% | $2500-$100,000 |
Nowadays, creditors have also started offering longer credit terms, for example, 72 or even 84 months, to pay off what you owe. What you need to understand is that while these contracts may entail smaller monthly payments, you may have to agree to higher rates - ultimately paying a higher price for your car.
If You Choose Dealer Financing:
Most dealerships, if not all, have a Finance and Insurance (F&I) Department where they always discuss your available financing options after a deal has been struck. The department manager will typically ask you to complete a form which is kind of like your credit application and will inquire about your:
Name
Date of birth
Previous and current addresses and your length of stay
Previous and current employers and your length of employment
Sources of income
Occupation
Total gross monthly income
Debt obligation and credit accounts Most dealerships also ask for your credit report so they can get a closer look at your past and present credit records, your payment information and possible bankruptcy history.
Our Final Thoughts
The monthly payments on lease contracts are usually a little lower than those you'll end up paying via monthly finance payments, for the same car. You see, a lease is a payment on the expected depreciation of the vehicle for a lease period, plus sundry fees, taxes and rent charges. Also, make sure to check whether your lease agreement includes an agreement to have full ownership of the vehicle at the end of the leasing period.
In order to figure out whether leasing is really the way to go, look-up:
Weigh the beginning, in-progress and end of the lease costs involved in the contract
Consider how long you will feel comfortable driving the same car
Compare different terms and offers, including limits on mileage or dealership financing contracts
Finally, after you have signed the contract, make sure you have a copy of the agreement before you leave the financial institution or the dealership.
Let Us Help You Get the Car You Deserve
While you ponder which institutions you need to go through for your auto loan, how about we offer you a chance to borrow the cost of your future car despite your bad credit history?
f you partner with CarLoans.com, you will find that getting a car loan for bad credit, no credit or good credit has never been easier. All credit scores are welcome to our services and we can help you get an auto car loan in just 60 seconds!
Visit CarLoans.com today to research current car loan rates, touchless car loans, online car loans and so much more.