What is a Guarantor in an Auto Loan?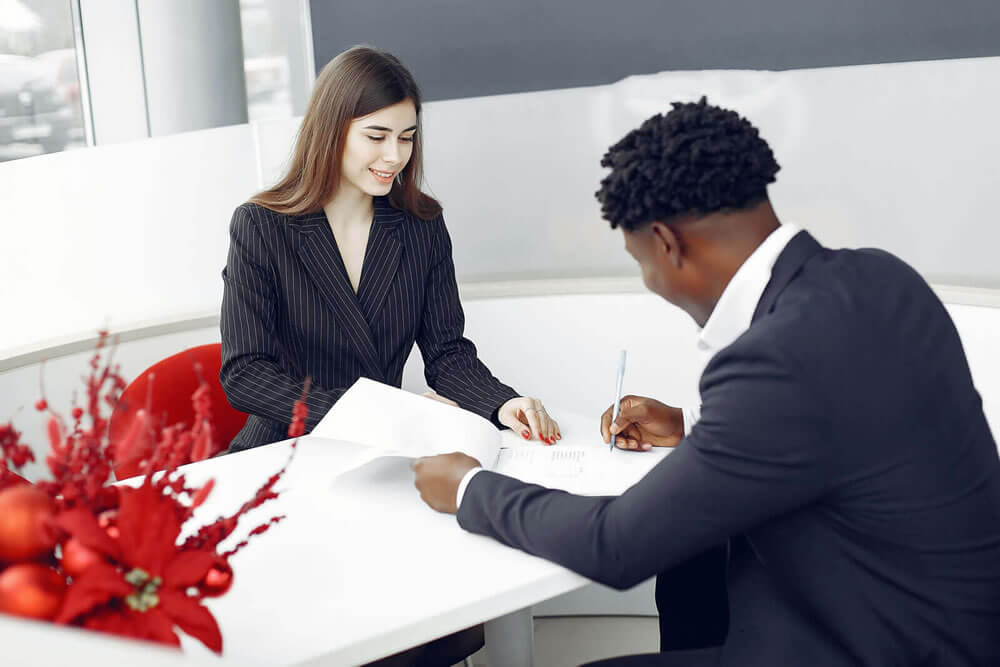 A car salesperson
Are you looking forward to applying for a car loan, but don't have the necessary income or credit history to be preapproved? Well, if you can get a family member or a friend to stand-in as the guarantor for your auto loan, then your chances of getting approved will increase substantially.
What Is a Guarantor Auto Loan?
A guarantor auto loan is when a friend or family member agrees to repay the loan if you (the borrower) defaults on payments. These auto loans are very useful for people who are struggling to get approved for finances or cannot find suitable auto loan refinance rates. Typically, this occurs because they are either young and have no credit history, are students, pensioners or simply have bad credit history.
By adding another individual to the transaction, the lender will be risking much less and will have a back-up plan, should you run out of finances. Now if you have been struggling to get your finances in order to get an auto loan, we'd like you to consider looking for a suitable guarantor.
What Is a Guarantor Responsible For?
The guarantor's role in this transaction is to be legally responsible for the entire value of the loan, plus all of its associated costs. More specifically, it is the guarantor's responsibility to keep track of loan fees, charges and interest. If you were to miss a couple of payments or file for bankruptcy, the guarantor will be liable to pay the remaining sum.
If the guarantor also fails to pay the value of the debt, the security (such as the vehicle or other assets) may be seized by the lender to compensate for their losses.
For this reason, before any individual can volunteer as a guarantor, they should consider the following things:
What is the auto loan worth?
How often does the original borrower make repayments? (Monthly, fortnightly or weekly?)
How will this loan affect the guarantor's credit report?
Note: Guarantors do not have the right to claim ownership of the vehicle that was bought with the loan.
Can I Become a Guarantor for an Auto Loan?
Practically anyone can sign-up to be a guarantor for an auto loan, however, typically, this is a responsibility shared by a close friend or a family member. You see, being a guarantor for an auto loan is a huge responsibility and you're basically agreeing to pay someone else's debt if they fail to do so. Plus, most of the time, they wouldn't even get to drive the car!
Keep in mind that the reliability of guarantors is always tested and you might be asked for your credit report as well. At times, you might even be asked to present proof of income, debts you owe and recent bank statements.
How Much Can One Borrow With a Guarantor Auto Loan?
The amount you are approved to borrow will depend on your guarantor's financial situation. Each lender may have a different criteria set to test what may impact whether you are approved for the loan. Your employment history, credit history and income streams are perhaps the most important financial details that can paint a picture of what you and your guarantor can afford to repay.
If you were looking forward to an exact figure in this answer, you could search through the numerous auto loan calculators available on the internet.
What Happens If Your Guarantor Drops Out of the Deal?
One thing's for sure: you'll be in a very tight situation. You see, there are very strict circumstances where loan guarantors are allowed to exit the loan. For instance, your guarantor is allowed to do so before you receive any money from the lender. They can also do so before the lender sends out a notice saying that they accepted your loan application.
Guarantors are also legally allowed to jump ship if the original account signed by them was different from the finalized contract between the lender and the auto buyer. If you are a guarantor and find yourself in a situation where you can't pull out, you should seek financial and legal advice from professionals before making a decision yourself.
What If the Guarantor Cannot Pay the Loan?
When you fail to make timely monthly payments, this responsibility will fall onto the guarantor. However, in the event that even the guarantor fails to pay the debt, both parties might find themselves in a problem.
In most cases, lenders are ready to settle the debt you owe by taking possession of the security against the loan, which is usually the vehicle itself. If your guarantor had offered a different security against the loan amount, these assets will also be seized.
Finally, the lender might also bring in debt collectors to the mix, and defaulting the loan could have a negative impact on your credit report.
Can Guarantor Car Loans Save You Money?
The short answer is yes. You see, the benefit of bringing in a guarantor is that you will seem like a less risky borrower and your lender might even grant you a lower APR.
If you are a young adult, an apprentice or a student, you aren't going to have any luck with auto loan refinance rates because of your credit history. For this reason, guarantors with an excellent credit score could be favored by lenders to the point that they automatically offer them good interest rates.
Ideally, lenders favor guarantors who have stable income/employment history, positive credit history and excellent credit scores. In addition, if you do manage to pay the entire auto loan with your finances, it will reflect very positively on your credit report. In other words, you will find it easier to gain access to financial products such as home loans or credit cards in the future.
What's the Difference Between a Co-Borrower and a Guarantor?
A co-borrower auto loan is simply another name for a loan that is applied for by two or more auto buyers. In other words, the person who signs-up as the co-borrower shares equal responsibility for the loan, starting right from when the loan is approved.
Let Us Help You Get the Car You Deserve
While you ponder which institutions you need to go through for your auto loan, how about we offer you a chance to borrow the cost of your future car despite your bad credit history?
If you partner with CarLoans.com, you will find that getting a car loan for bad credit, no credit or good credit has never been easier. All credit scores are welcome for our services and we can help you get an auto car loan in just 60 seconds!
Visit CarLoans.com today to research current car loan rates, touchless car loans, online car loans and so much more.